Stuff to Buy
Click Here for books
Click Here for T-shirts
NEW Click Here for the Poster
Found Objects
CD in Digipack Case: $15.00 USD
A Crash Bang Christmas - $10.00


The new Christmas CD
featuring Bing Futch, Guy George, and Danimal Pinson!
As a regular CD
As a Christmas Card
Click here to download it!
---
The Moonshiner's Atlas - $15.00


Butch's first Dulcimer CD. 14 songs produced by Robert Force. A mix of Old-time fiddle tunes, traditional folk tunes, originals compositions and reimagined covers. Includes "I Like Singing Folk songs," "Moonshiner" and "1952 Vincent Black Lightning."
---
CDs
People, Places, Things $15.00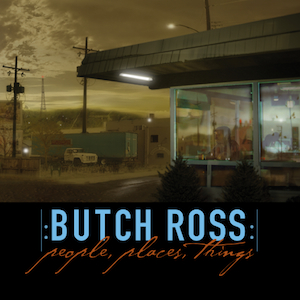 An 11 song album of mostly original story songs, featuring "Shenandoah", "Glad That We're Together", "Little Liza Jane" and "The Path of Least Resistance"
---
A Long Way From Shady Grove $10.00


This 14-track, all-instrumental dulcimer CD contains a mix of original and traditional material, plus guest performances from Gary Gallier, Quintin Stephens and Stephne Seifert.
---
The Dulcimer Christmas Card


Click here to go to the Christmas Music page.

Dulcimer Christmas Card $10
in standard jewelbox $15
or as a digital download new!
Get it from CD baby here.
---
Christie Burns and Butch Ross - $10.00



The debut duo album from Butch and Christie. An intoxicating mix of sweet hammered dulcimer and propulsive guitar, topped with some sweet songs and a little mountain and hammered dulcimer action.
Books
---
The Beatletudes for Ukulele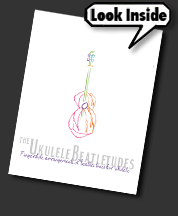 13 Beatles tunes arranged for solo fingerstyle Ukulele.
Comes with CD and a link to online videos of the tunes.
$20.00
---
13 More Tunes Almost Nobody Plays

A new baker's dozen set of wonderful tunes that are not often played by clubs. Cd feature the tune played on Mountain Dulcimer with Bass and Guitar accompanyment.

Tunes: Apple Blossom; Big Scioty; Billy in the Lowground; Grumbing Old Man/Growling old Woman; Hell Up 9 Mile; Little Rabbit; Old Aunt Jenny With Her Nightcap On; Old Billy Hell; Peace Round; Roscoe; The Salvation; and Winder Slide
$20.00
---
All The Strings, All The Time
21 tunes--plus three exercizes--designed to teach you how to play and progress from rank beginner to not-too-shabby
$20.00
---
The BeatleTudes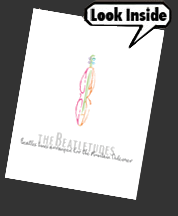 7 great (and surprising) Beatles tunes arranged for Mountain Dulcimer, with CD. Includes: Eleanor Rigby (easy version), Blackbird, In My Life, Norwegian Wood, Lucy in the Sky with Diamonds (1.5 and no-1.5 versions), While My Guitar Gently Weeps, A Little Help Here? (help)
$20.00
---
13 Great Tunes that (almost) Nobody Plays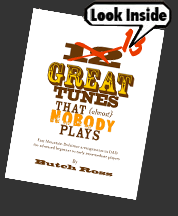 12...no 13 fun and fairly easy tunes that don't show up in club repertoire too often. In D, as well as thier original keys. For late beginner to early intermediate players. Includes: Barlow Knife, Old Yellow Dog, Squirrel Heads in Gravy, Booth Shot Lincoln, John Brown's Dream, Shove That Pigs Foot a Little Further in the Fire, Little Billy Wilson, Cuckoo's Nest, Hunting the Buffalo, Cumberland Gap, Shady Grove (Major Key Version), Old Chattanooga, and Wild Mountain Thyme. $20 with CD.
$20.00
---
The Dulcimer Christmas Book

15 transcriptions of all the songs on Butch's "Christmas Card" CD. Most tunes are suitable for novice to intermediate players, with the occasional knuckle-buster thrown in for good measure. Includes: Good King Wencelas, We Three Kings, What Child Is This?, Jingle Bells/Here Comes Santa Claus, God Rest Ye Merry Gentlemen, O Little Town Of Bethlehem (Merv Rowley's 1-3-5 arrangment), Come All Ye Faithful, My Favorite Things, Carol of the Bells, Hark! Angels! Joy!, Linus and Lucy, Away in a Manger, Silent Night. Available without the CD for $15 or with for $25.
The Dulcimer Christmas Book with CD - $25
The Dulcimer Christmas Book (no CD) - $15
---
Rosie Uke Poster

A surprisingly useful poster featuring Rosie the Riveter and jam packed with Uke chords and useful informaton.
$8.00